These DIY bedroom decor ideas will help you get a high-end look for a fraction of the cost. Regardless of your design style, there's a project below you're sure to love. Get inspired and create a more relaxed and inviting bedroom you'll want to retire to night after night.
1. Infuse Some Whimsy With a DIY Bed Canopy
Nothing is quite as romantic and feminine as a bed canopy. There are a ton of canopies on the market that you can get for less than $50, but how you hang the canopy makes all the difference. This project makes use of sheer curtains and handmade copper rods positioned on the corners, which makes the look feel more custom and less store-bought.
2. Pillows Printed With Lyrics
If modern decor is your thing, this project will add a fun and trendy element by using bold lettering. The best thing about this bedroom decor idea is that it's so inexpensive, you can change out lyrics or sayings often. Pair the pillows with white bedding and other minimal design elements to complete the look.
3. Eucalyptus Draped Above the Bed
Eucalyptus is feminine, relaxing, and adds a bit of hygge to your space. If you opt to use fresh greenery as was done here, shop for Silver Dollar Eucalyptus at Trader Joes (available seasonally). Dried or fake herbs will give you the same look with a bit more longevity. 
4. Bedside Table Transformed With Marble Contact Paper
This bedroom project is perfect if you want a chic and sophisticated space to lay your head. Marble contact paper is one of the hottest craft items when trying to make things look more high-end than they usually are. Without touching the end table, it would be almost impossible to tell that the top isn't marble.
5. Breakfast Tray With Vinyl Lettering
This bedroom decor idea doesn't take itself too seriously and nor should you. If the saying on the tray isn't your thing, opt for something else that will inspire you when first eating breakfast in bed, like "Good morning beautiful" or "Rise and Shine."
6. Bolster Pillow Dyed With Indigo Ink
One of the easiest ways to make an inexpensive pillow case look like something out of a high-end boutique is to dye it with indigo ink. This pattern looks great with other bohemian-style decor and accents, like the faux fur accent pillow you see here.
7. Farmhouse Character With Lace Curtains
Lace and wood beams are iconic design elements in farmhouse style homes, but who thought to put both of them together? This brilliant idea transforms a wooden beam into a curtain rod and acts almost like a bed canopy that extends across the length of the bedroom. Another alternative to this project is to hang a curtain rod above the bed and drape lace curtains down the wall to act as a headboard. 
8. Luxurious Bed Tray is a great Diy bedroom projects
Working from bed never felt so luxurious with this bed tray or laptop stand. Design Tip: Marble projects like this look great paired with brushed gold accents and pastel-colored florals. 
9. Painted Vintage End Table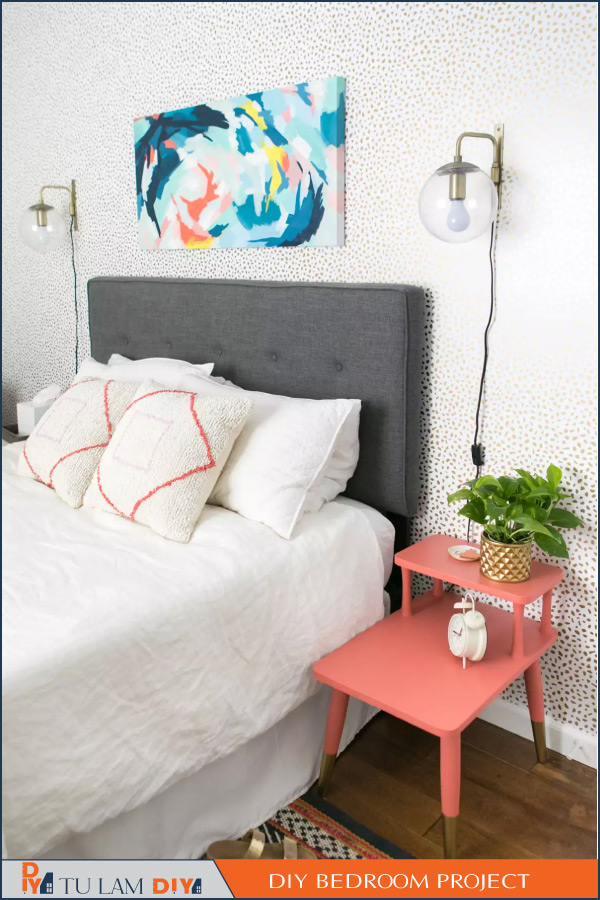 If you want to update thrift store furniture finds, the easiest way to do that is with paint. To make your bedroom a bright and cheery space, don't be afraid to add bright pops of color like peach or teal.
10. Chunky Arm Knit Blanket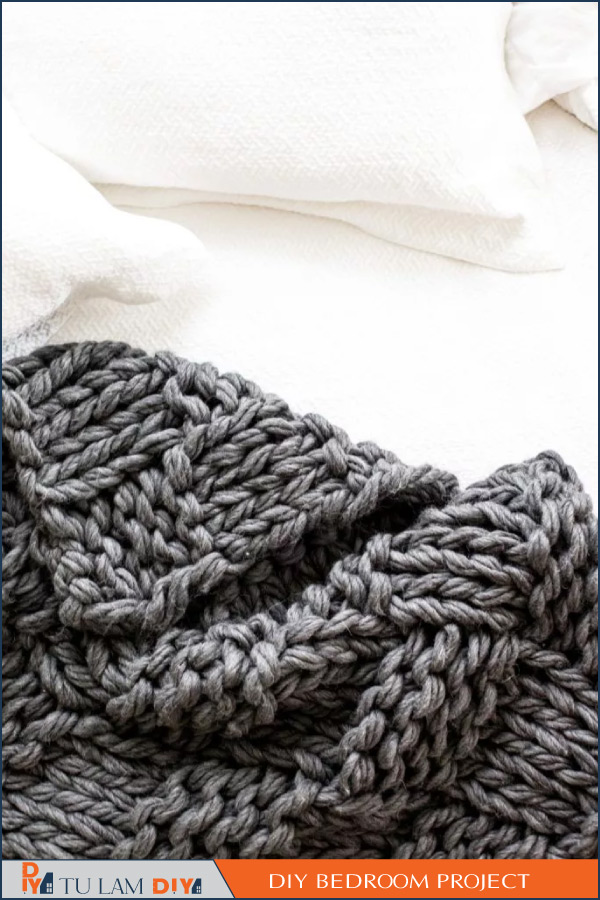 These chunky throw blankets are all over Pinterest, and unfortunately, they aren't cheap to buy. Get the look for less by learning how to knit your own using a pattern. 
11. Antique Mirror Made From Paint and Muriatic Acid
Antique mirrors are full of character, but they're often expensive and hard to find. Customize exactly how you want your accent mirror to look with this project that transforms a cheap mirror using paint and muriatic acid. 
12. Framing Nature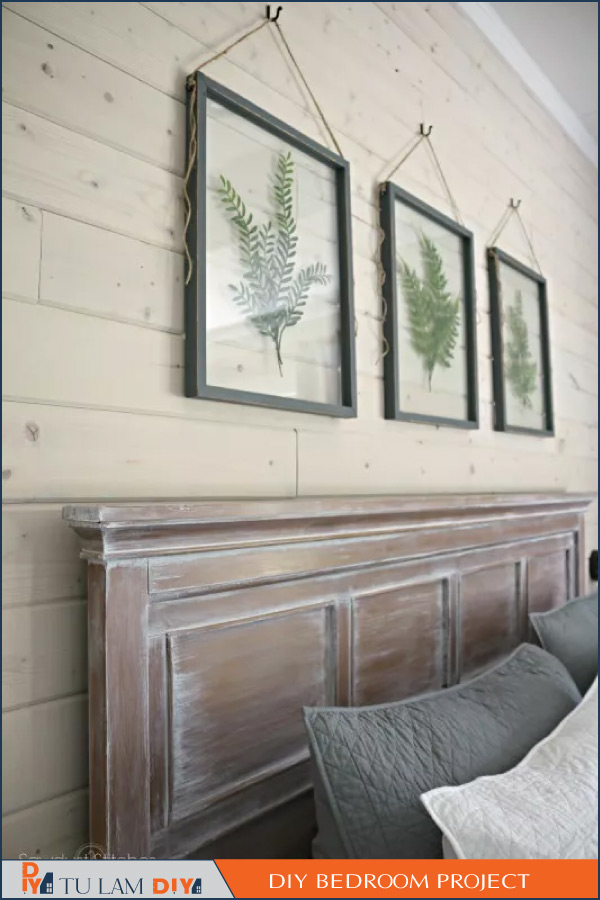 An effective way to fill the space above your headboard is by hanging three frames of the same size. This decor idea does just that by creating art using pressed leaves. 
13. Light and Airy Headboard Wall Hanging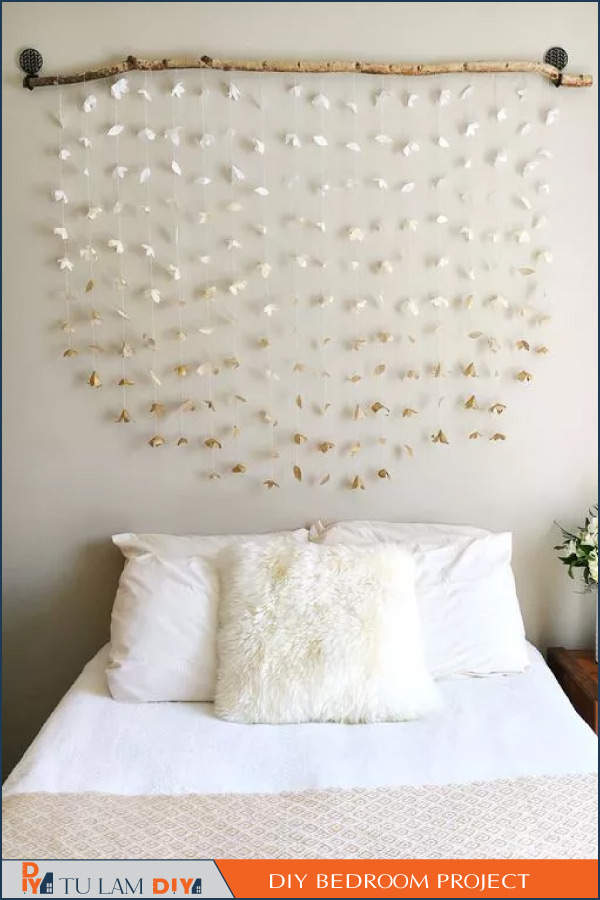 If you're lacking a headboard and don't have a ton of money to buy one, try this simple bohemian project using driftwood and paper. Just be careful to hang the piece well above your pillows, so you don't crumple the origami while you sleep. 
14. New Bed Made From Old Wood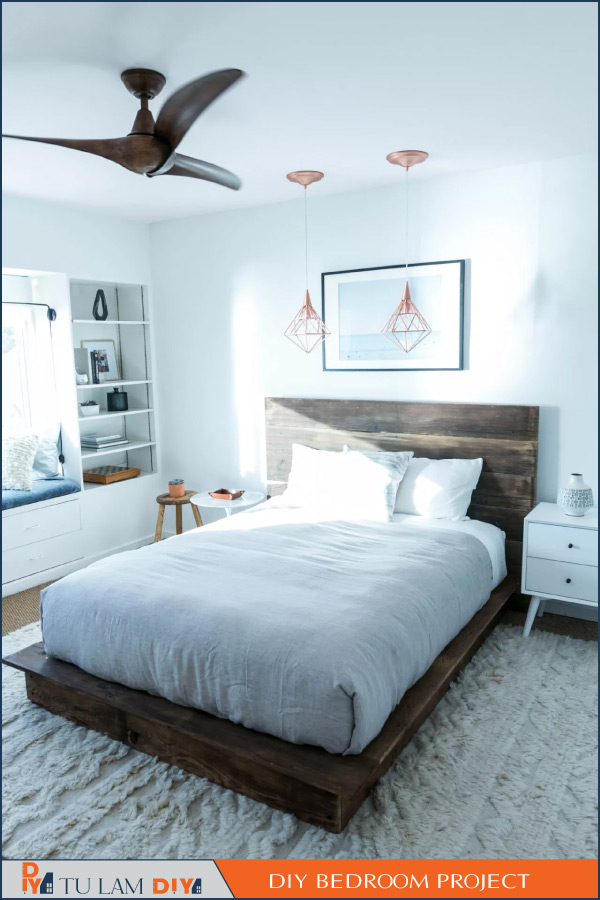 One of the biggest (and most expensive) changes you can make in the bedroom is changing out the bed. If your carpentry skills are up to par, check out this bed tutorial using reclaimed wood. Just be sure all the wood is well cleaned and sealed before you use it in a bed project. 
15. Bedside Sconces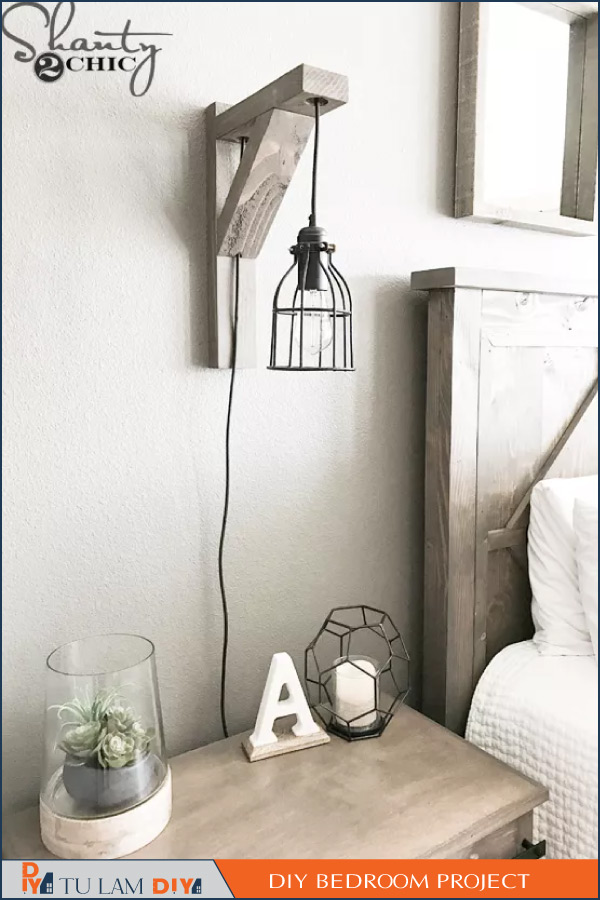 A sconce on either side of the bed is one of the more functional decor additions you can make to a master bedroom. If farmhouse style is your ideal design aesthetic, this sconce couldn't be easier or quicker to make. You'll also save tons of money in the process. 
16. Stenciled "Inlays" for a Dresser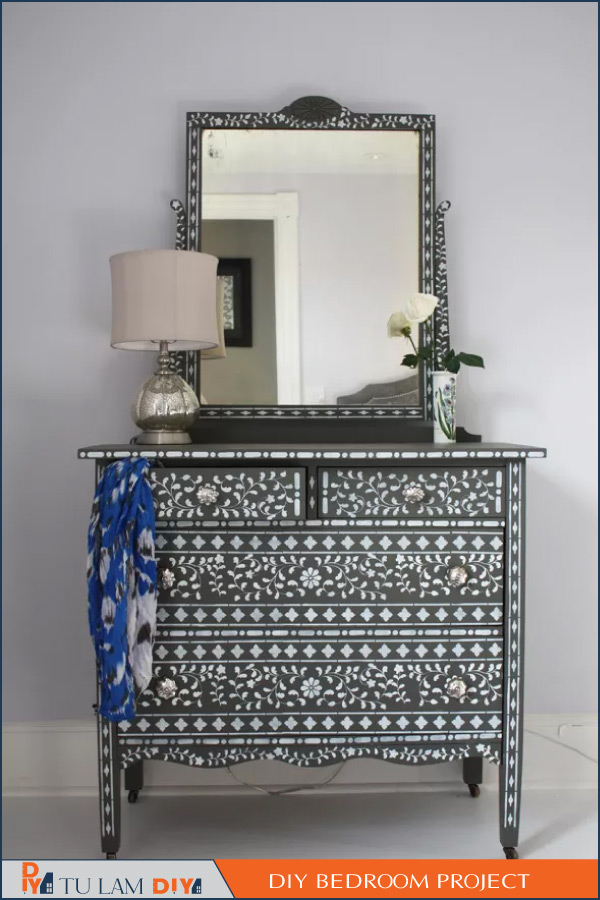 This eclectic dresser is an impressive statement piece for any bedroom and is very reminiscent of expensive bone inlay dressers that cost over $1,000 at Anthropologie. Believe it or not, this DIY project is one that any person can accomplish with stencils, the right type of paint, and a little bit of patience. 
17. Transform an Ikea Mirror
There are so many Ikea hacks that work with this Mongstad Mirror, but this one is impressive because it completely transforms the look from something very modern to something very vintage.
18. Lavender Sleep Spray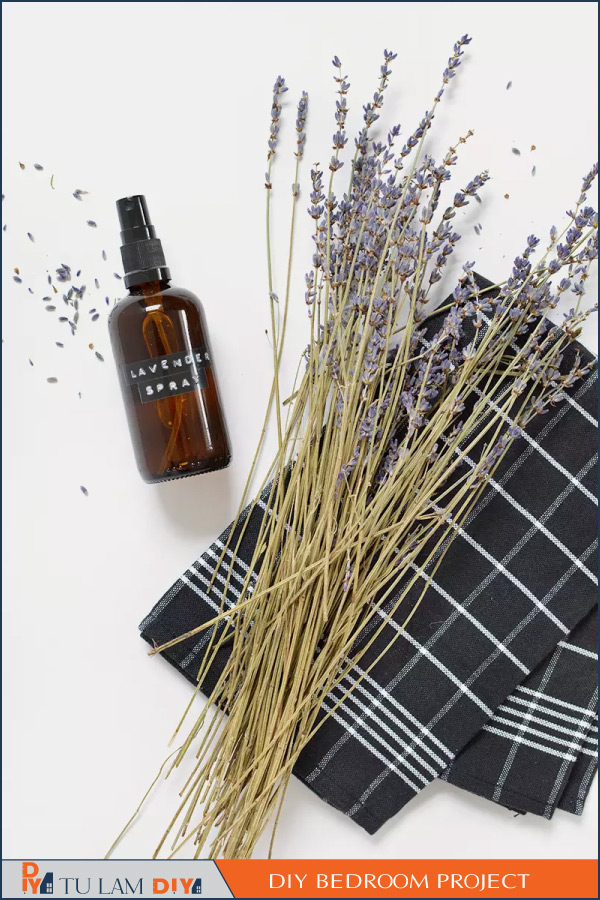 To update the feel of your bedroom, don't underestimate the power of smell. Sleep sprays are incredibly relaxing, especially ones using lavender. But they can get expensive, and some might even contain harmful ingredients. Know what you're spraying on your pillows by making your own.
19. Bench for the End of the Bed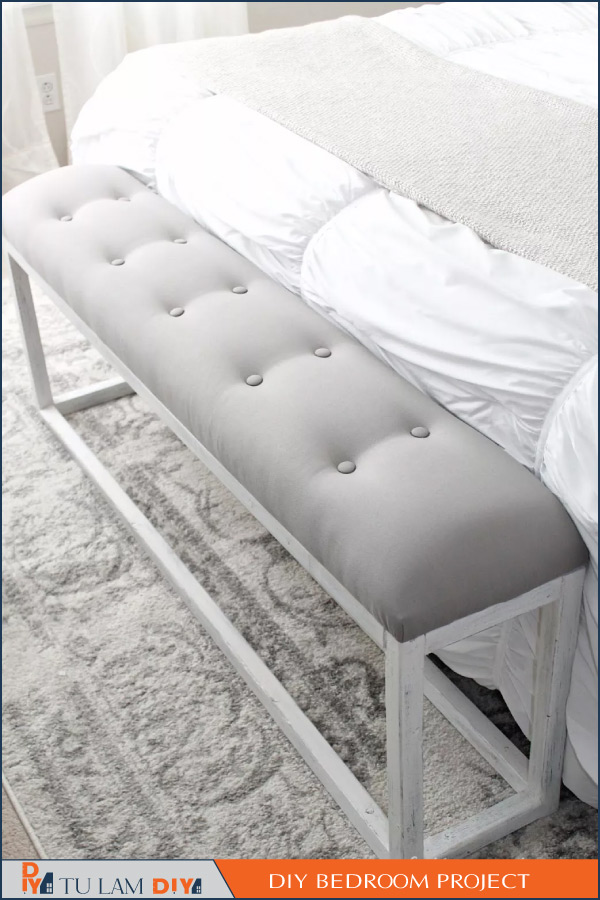 If you have enough space, consider making a bench for the end of your bed. The traditional look of this bench adds a touch of sophistication to an otherwise bare space. The bench will also make getting your socks on in the morning that much easier. 
20. Ruffled Duvet Cover
Duvet covers are a staple that add a touch of luxury to a bedroom. Luckily, duvets are relatively easy to make on your own, using flat sheets. Remember, you don't need high thread count sheets for this project since most of your skin won't be touching the duvet directly when you sleep. 
If you can't figure out exactly where to begin with your makeover, browse this roundup of practical and affordable bedroom decorating ideas, including some creative DIY projects you can do in a weekend and ideas for small bedrooms. You're sure to be inspired, whether you just moved into a new home or are simply interested in a few cosmetic upgrades. Get ready to design the bedroom retreat of your dreams!