These free printable sleepover invitations are a must if you're throwing a slumber party for your daughter or friend. They're perfect for girls of all ages, and there's even one on the list that would work great for a boy.
All of these sleepover invitations can be customized with your party details including who the party's for, where and what time the party takes place, what the kids need to bring to the party, and your RSVP details.
Some of the sleepover invitations can be customized before printing and others will have you fill in the information after you've printed them, so choose whichever one works best for you. There's also a list of printable envelopes for these invitations as well as some free, printable birthday invitations you'll want to check out if you're looking for even more options.
Ready to plan the slumber party? Use this list of free sleepover games that utilize items you already have on hand. The girls will love them!
1. Flashlight Slumber Party Invitation
This cute sleepover party invitation lets the guests know that they are in for a night of fun. It even has a place to list what everyone needs to bring to the sleepover.
Before you print, you can customize this sleepover invite with your text and stickers. Matching envelopes are also available.
2. Starry Night Sleepover Invitation
This blue-and-yellow slumber party invitation invites guests over to a starry night of fun for a sleepover. The colors make it perfect for a girl or boy sleepover. You can customize all the text, change the font, and even changes the colors of this invitation. Download and print as a PDF or JPEG.
Be sure to look at the other Canva sleepover invites, there are lots of good ones here.
3. Pajama Party Invitations
These printable Pajama Party invitations are great for girls of all ages and can easily be printed two per page.
After printing, you can write information about when the pajama party is, when it's going to take place, where the party is going to happen, what the girls need to bring to the party, and RSVP information.
4. Printable Sleepover Invitation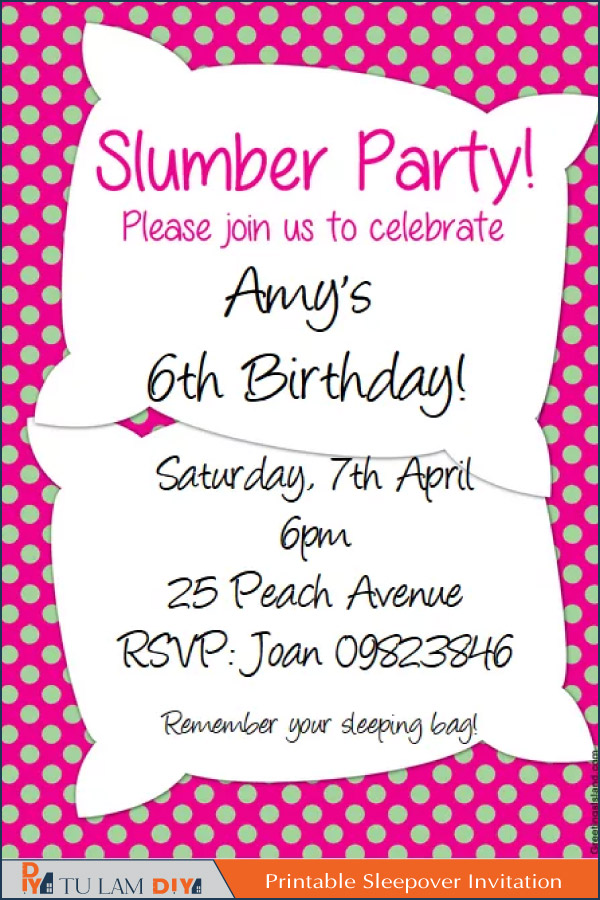 Pink-and-green polka dots with pillows make this printable slumber party invitation colorful and fun for girls of all ages. All the text on this colorful sleepover invite can be edited to make it your own. Don't forget to change the name, age, date, time, address, and RSVP information before printing it off.
The style of the text can also be changed to a different font or a different color, and stickers can also be added.
5. Slumber Party Pillow Case Invitations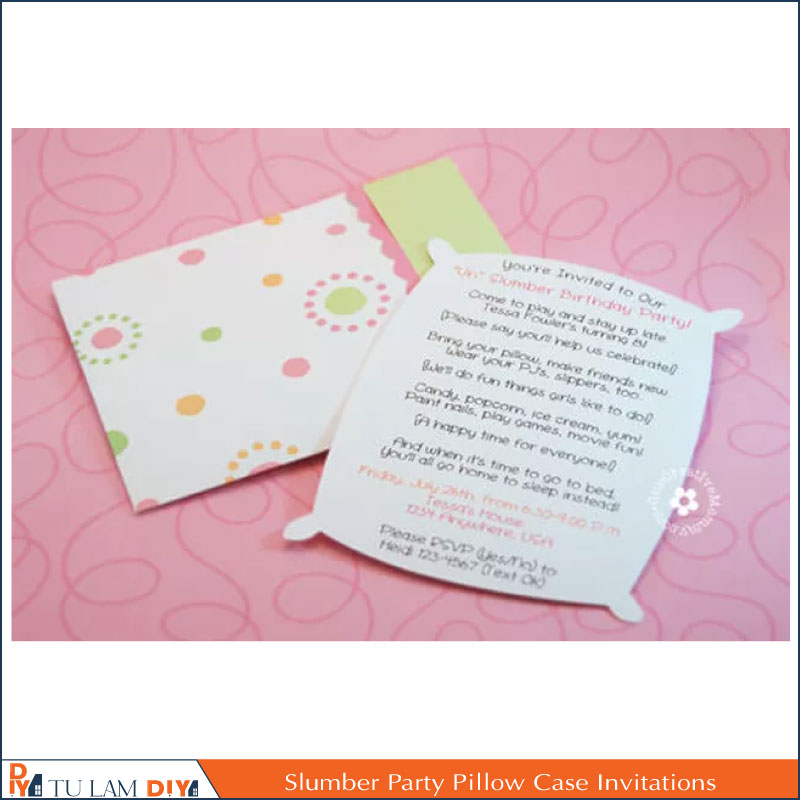 This adorable slumber party invitation is in the shape of a pillow that's slipped into its colorful pillowcase. It also includes a cute poem to go on the invite.
This free slumber party invitation template is available as a PDF file and as Silhouette cut files.
6. Sleepover Invitation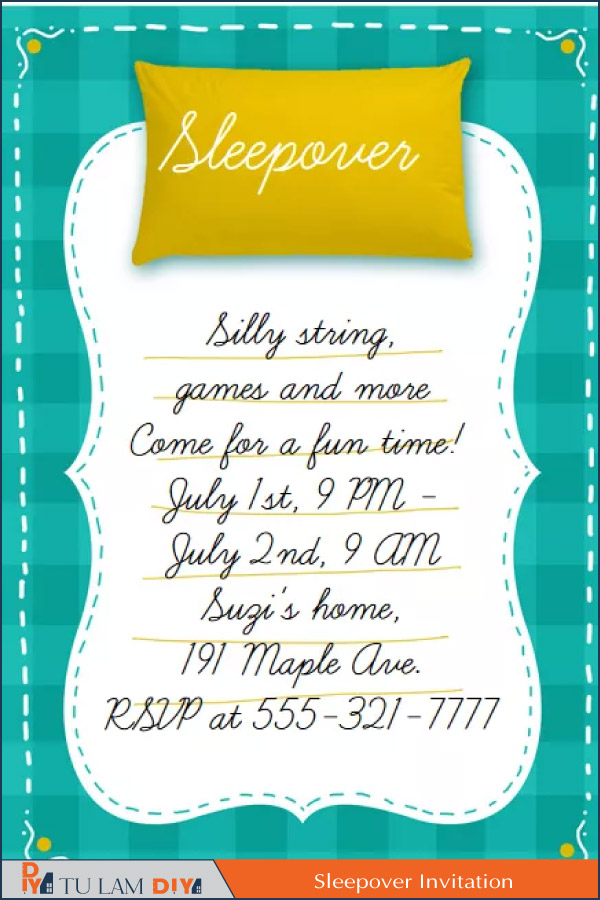 This teal-and-green free sleepover invitation can easily be edited with your party details. The colors are pretty gender-neutral, so they could be used for a boys' slumber party as well.
After you've customized this invitation, you just need to download or print it. There are also matching envelopes available.
7. Party Stars Slumber Party Invite from Greetings Island
This pink-and-yellow striped slumber party invite does a great job inviting all the young lady's best friends to her sleepover. You can customize this invitation with her name, birthday age or other occasion, date, time, place, and RSVP information.
You can also add additional text or stickers to the slumber party invitation before you print.
8. Online Sleepover Invite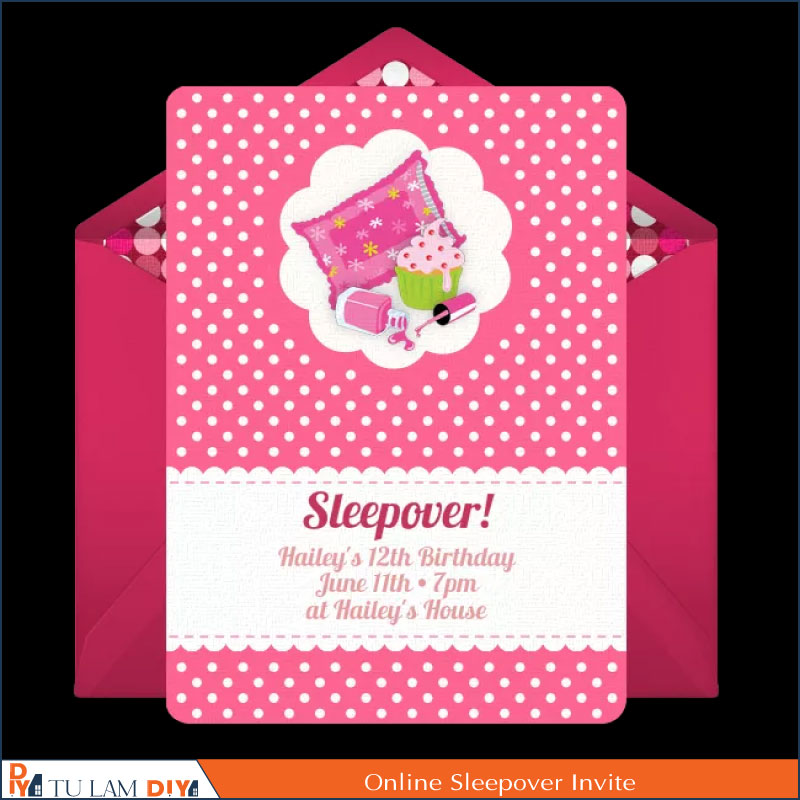 If you don't want to bother with printable invites, here's an online sleepover invite from Punchbowl. Pink-and-white dots as well as images of a pillow, cupcake, and fingernail polish, invite guests over for a fun slumber party.
You can customize all the party info here and then email it to the guests when you're done.
9. Wallpaper Database
Thirdly free printable for all template but the invitation and hat need heavy card stock paper. In between the binge watching and the pummeling pillows try a group activity with mugs and markers and a microwave. The link is a privilege for the invitation template that still looks in a blank space. Icing with Sprinkles Birthday Party Invitation. How to Get the Templates for Free. Free Printable Halloween Sleepover Invitations Templates You can create your own halloween Spooky invitation online with personalized text. Printable Sleepover Party Invitation Template Download the free Printable Kids Party Invitation Template. They're perfect for girls of all ages and there's even one on the list that would work great for a boy. Print copies of a recipe for a. It also asks for a ribbon for hanging as the hat strap.
10. Baby Shower Invitations Templates
If you're having such a thought to celebrate your best mate and her newborn baby, you definitely need to host her a perfect shower party, like what I did recently. Luckily for you, I've gathered some information that could be very useful for you, before we go – I need to shout out to my school mate who helps me a lot to list this following tips as well as give me a bunch of ideas to craft a perfect template for my party invitations. Without further ado, let's get it!
For example, you can go with Unique Invitations that you can customize to however you please. But let's say that you're going to have a pintables sleepover and you want your invitations to clearly point that out. This would mean that you will have to create sleepover invitations and this article will teach you how to make them.